Canadian Institute for Ukrainian Studies (CIUS), University of Alberta
ScienceCampus Visiting Researcher, based at IOS
Duration of stay: 15 October – 14 November 2023
E-Mail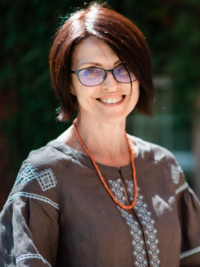 Natalia Khanenko-Friesen is a professor in the Department of Modern Languages and Cultural Studies and Director of the Canadian Institute of Ukrainian Studies in the Faculty of Arts at University of Alberta, Canada. Also, she serves as the Huculak Chair of Ukrainian Culture and Ethnography at the Kule Folklore Centre. Cultural anthropologist by training, and a long-term practitioner of oral history, Natalia's research primarily focuses on diaspora studies, labour migration, Western Canada, Ukrainian Canadian culture and Contemporary Ukraine studies as well as the war in Ukraine.
Some of her many publications include Ukrainian Otherlands: Diaspora, Homeland and Folk Imagination in the 20th Century (UWisconsin Press 2015) and, The Other World or Ethnicity in Action: Canadian Ukrainianness at the end of the 20th century (Smoloskyp Press 2011).
During her stay, she will be based at IOS and collaborating closely with Guido Hausmann and other colleagues across the ScienceCampus. In an open meet and greet session on 24 October, at 16:15 in Room 017 at IOS, she will discuss some of the work of CIUS and her research interests. On 7 November at 16:15, also in Room 017, she will give a talk on "Testimony research in post-2022 Ukraine: Mapping the Field".
Her visit to Regensburg is part of a seed money initiative to establish broader cooperation with the CIUS at the University of Alberta.