The Research Colloquium is organized jointly by the ScienceCampus and Graduate School for East and Southeast European Studies.
Past events in the series are listed below. Next event:
14 January 2021 | 16:15
Buchbesprechung: "Forging Global Fordism" mit Vortrag: "Von der Arbeitsteilung zur Entwicklungskonkurrenz: Die große Krise 1927-1934 als globaler Wendepunkt"
Stefan Link (Dartmouth)
In this event, Stefan Link will discuss his book Forging Global Fordism: Nazi Germany, Soviet Russia, and the Contest over the Industrial Order (Princeton UP, 2020), in conversation with Ulf Brunnbauer. This will be accompanied by a lecture on the Great Depression as a moment of global change.
More information about the book and lecture can be found here.
Stefan Link is associate professor of history at Dartmouth College, Hanover, New Hampshire. He specializes in economic history, business history, and the intellectual history of capitalism. He received his PhD from Harvard in 2012.
Zoom: https://uni-regensburg.zoom.us/j/91962364308, Meeting-ID: 919 6236 4308
4 February 2021 | 16:15
Transatlantic and Comparative Perspectives on financial crises in the second half of the 19th century
Catherine Davies (Zürich)
Panics and crashes were central features of nineteenth century capitalism. In 1857 and 1873, financial crises erupted in the United States and in several European countries, causing havoc, a wave of commercial failures, unemployment and poverty. The growth of international trade and credit networks, aided by advances in transportation, communication and production, meant that financial disruptions were no longer isolated local or national events. Economic commentators, policy makers, entrepreneurs and journalists struggled to make sense both of this growing interconnectedness and of the emerging recurrence of episodes of overspeculation and downturns; liberal politico-economic accounts of the (ir)rationality of entrepreneurial activity co-existed alongside religious indictments of the amorality of the capitalist marketplace. An integrated transatlantic history of financial panics shows how differences and commonalities in responses were shaped by both institutions and culture.
Catherine Davies is senior assistant professor in history at the University of Zürich, having gained her PhD at FU Berlin. She is currently working on a history of sexual violence in West Germany. Her book, Transatlantic Speculations: Globalization and the Panics of 1873, appeared with Columbia University Press in 2018. She has published extensively on the history of financial crises and their connections to globalization and democracy.
Zoom: https://uni-regensburg.zoom.us/j/93496276237, Meeting-ID: 934 9627 6237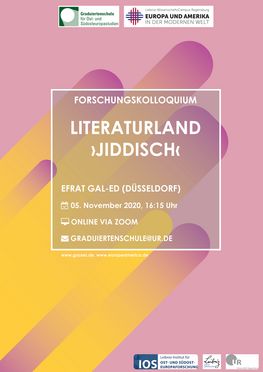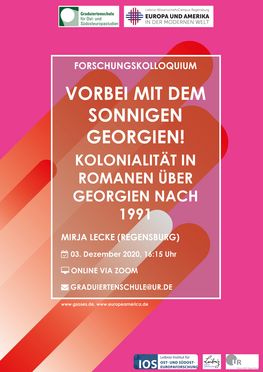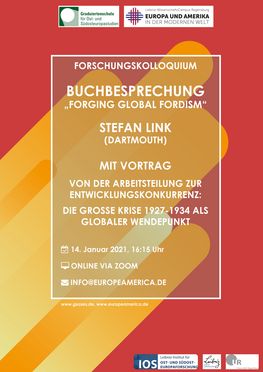 5 November 2020 | 16:15
Literaturland ›Jiddisch‹
Efrat Gal-Ed (Düsseldorf)
Eine wichtige Antwort auf die Erschütterungen der jüdischen Lebenswelt durch den Ersten Weltkrieg war das Projekt der jiddischen Moderne. Hauptakteure der Gestaltung dieses Gegenentwurfs zu den bestehenden Verhältnissen waren die Schriftsteller; die Hauptrolle spielte die entstehende jiddische Literatur. Diese Minoritätsliteratur entfaltete sich weltweit quer durch die verschiedenen Nationalstaaten hindurch und im ständigen Kontakt mit den sie umgebenden Mehrheitskulturen. Wo sie existierte, war sie fremd, geprägt von der Spannung zwischen kultureller Differenz und transkulturellem Selbstverständnis der Autoren. Jiddisch-modernistische ästhetische Programme zeugen von der Bindung an Werte und Modelle der europäischen Moderne und zielten auf die Zugehörigkeit zur Weltliteratur. Doch dazu bedurfte es einer externen Stärkung, der Anerkennung der ›kleinen Literatur‹ durch eine europäische Institution. Dies geschah, als 1927 die staatenlose jiddische Literatur Mitglied des Internationalen PEN-Clubs wurde. Von da an begannen jiddische Autoren ihren geographisch fragmentierten Kulturraum und die jiddische Literatur mit ihren Zentren in Warschau, Wilna, Kiew, Moskau und New York als ein Literaturland aufzufassen; es entstand ›das Land Jiddisch‹.
In meinem Vortrag wird der Diskurs jiddischer Intellektueller um die Fragmentierung ihres Literaturraums rekonstruiert, in dem das kosmopolitische Kulturprojekt entstand, das ursprünglich ›das Land Jiddisch‹ und später ›Jiddischland‹ genannt wurde: die Wortrepublik, welche Jiddischsprechende über Literatur und Kunst weltweit vereinte.
Efrat Gal-Ed, geboren 1956 in Tiberias, Israel, studierte Judaistik, Germanistik und Komparatistik sowie Malerei und promovierte in Jiddistik. Sie lebt als Malerin und Autorin in Köln und lehrt jiddische Literatur und Kultur an der Heinrich-Heine-Universität Düsseldorf.
Summary
In this lecture, Efrat Gal-Ed offered insights into the emergence of Yiddish-language literature as a phenomenon that was simultaneously transnational and locally rooted. While texts were disseminated across national and indeed continental boundaries, how they were written were inflected by local conditions and relations with dominant literatures and cultures in the societies where authors lived. Yiddishland was, then, an essentially "glocal" phenomenon produced through ongoing translations. Thus while it was a global phenomenon, its local inflections meant that Yiddish literature could not immediately make claims to being "world literature" - nor did it seek to. The multiple-scales and localities that influenced it, gave it a utopian urge, creating a sense of a "mobile homeland", or tragbare Heimat as she called it, meaning that it could never be pinned down, in the immediate post-WWI period, to a particular location but instead spoke to the tensions and frictions of a yearning for both localized autonomy and broader community.
Efrat Gal-Ed was invited to speak in the series by Sabine Koller, who is co-coordinator of the ScienceCampus module Verheimatlichung: Practices of Belonging. The talk addressed the core themes of that module, namely how is a sense of home created or disrupted, within the broader context of the global transformations, connections and transfer that have shaped Europe and America.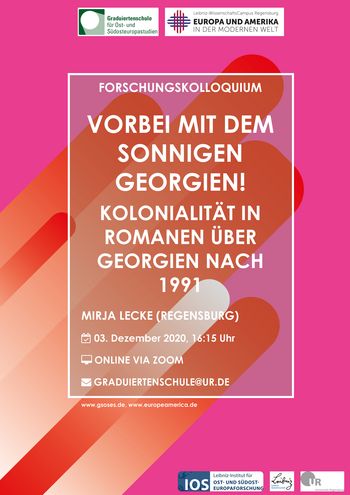 3 December 2020 | 16:15
Vorbei mit dem sonnigen Georgien! Kolonialität in Romanen über Georgien nach 1991
Mirja Lecke (Regensburg)
Im Vortrag werden koloniale Konstellationen in literarischen Texten über und aus Georgien untersucht. Auf Grundlage von methodischen Ansätzen von Walter Mignolo, Cristina Șandru und Madina Tlostanova werden drei Romane analysiert. "Die Reise nach Karabach" (1992) des Georgiers Aka Morchiladze, "Der Russophone" vom russischen Schriftsteller Denis Gucko (2005) und der deutschsprachige Bestseller "Das achte Leben. Für Brilka" (2014) von Nino Haratischwili. Alle drei Texte zeigen, was Mignolo "Kolonialität" nennt, wenngleich auf sehr unterschiedliche Weise. In ihnen überlappen und durchdringen sich verschiedene koloniale, fremde Blicke auf Georgien.
Mirja Lecke ist seit April 2020 Professorin für Slavische Literatur- und Kulturwissenschaft an der Universität Regensburg. Ihre Forschungsinteressen sind russische Literatur der imperialen und postsowjetischen Periode in postkolonialer Perspektive, insbesondere russisch-georgische, russisch-polnische und ukrainisch-polnische Verflechtungen in der Literatur.