The Research Colloquium is organized jointly by the ScienceCampus and Graduate School for East and Southeast European Studies in Regensburg. Click the titles or posters for details of the upcoming talks, while information on past events in this series are outlined below. The events organized by the ScienceCampus with the Graduate School form part of the broader Colloquium in the History and Social Anthropology of Southeastern and Eastern Europe. This event takes place each Thursday during the semester at 14:15 (with occasional exceptions). The current programme can be found here.
---
Winter Semester 2023/24
19.10.2023 | 14:15
14.12.2023 | 16:15 - please note the alternative start time
Getting 'Away from Moscow': Another 'Zelensky Effect'
18.01.2024 | 14:15
Anti-Gender Movements and Regional Contestations of LGBTQ+ Rights and Gender Equality in the Context of Russia's War in Ukraine
---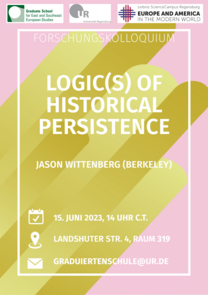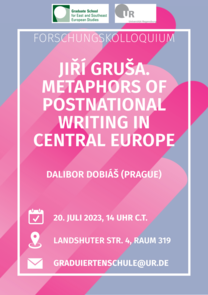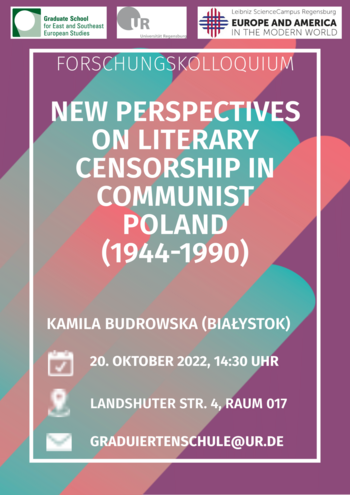 20 October 2022 | 14:30
New Perspectives on Literary Censorship in Communist Poland, 1944-1990
Kamila Budrowska (Białystok)
This lecture outlines the forms of censorship and how they functioned in communistera Poland. Drawing on my extensive research on literary censorship, the lecture will offer insight into the broader context relating both to the study of censorship today – including methodological and conceptual issues – and also to how censorship institutions and practices developed under communism – including the transnational influence of the Soviet Glavlit and the legal basis for Polish state censorship. A key aspect of the lecture explores how censorship policy and practices shifted over time, becoming variously more and less stringent. I show that key factors in this were: chronological, revealing the historical and political contingency of censorship; thematic, with banned and restricted topics changing; and personal, with writers treated differently according to their perceived standing.
Kamila Budrowska is professor at the Faculty of Philology at Białystok University and head of the Department of Philological Studies. She is the author of over a hundred publications on literary censorship in the years 1945-1989.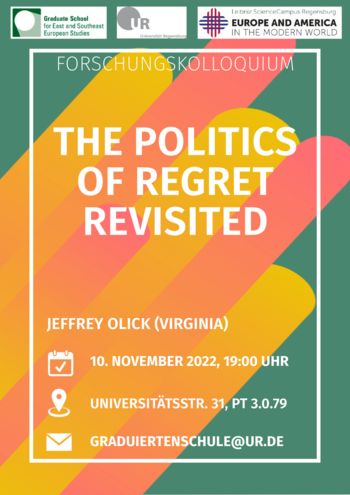 10 November 2022 | 19:00
The Politics of Regret Revisited
Jeffrey K. Olick (Virginia)
In the talk, Jeffrey Olick will review the trajectories of what he's called the politics of regret — acknowledging and apologizing for difficult pasts — from its heyday in the 1990s through the last two decades, with a focus on transformations in the last five years. He will give particular attention to debates over postcolonial memory in Europe (with particular attention to recent German debates) and to the end of what he has called American exceptionalism in memory politics following the murder of George Floyd and the rise of BLM (showing how the discourses are intertwined).
Jeffrey K. Olick is William R. Kenan, Jr. Professor of Sociology and History at the University of Virginia. He is Co-President of the Memory Studies Association and an elected member of the Sociological Research Association. He has made seminal contributions to the field of memory studies, including as co-editor of The Collective Memory Reader (with Vered Vinitzky-Seroussi and Daniel Levy; Oxford University Press, 2011). He first addressed the theme of this talk in The Politics of Regret: On Collective Memory and Historical Responsibility (Routledge 2007). His most recent publication is as co-editor of Regions of Memory: Transnational Formations (Palgrave, 2022).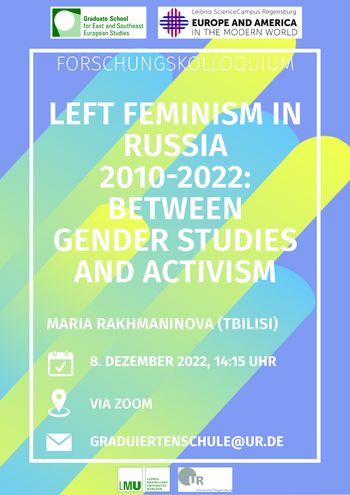 8 December 2022 | 14:15
Left Feminism in Russia 2010-2022: Between Gender Studies and Activism
Maria Rakhmaninova (Tbilisi)
The early 2010s in Russia were marked by new aspirations and milestones in the development of feminism. This was due, on the one hand, to the intensive and diverse reception of foreign sources on gender theory, and, on the other, to the emergence and rapid intensification of new authoritarian tendencies in Russian social and economic policy. Among other currents, the left wing of feminism deserves special attention: socialist feminism, Marxist (Trotskyist) feminism, and anarcho-feminism. The talk examines the main features, peculiarities and problems of this spectrum of feminist thought and practice and attempts to outline their path and current state.
Mario Rakhmaninova is a Russian specialist in social and political philosophy, a doctor of philosophy. Her fields of interest are society, the state, anarchism, feminism, protest movements, theories of revolution, art, aesthetics, pedagogy and philosophy of animals.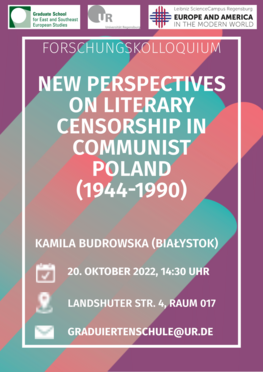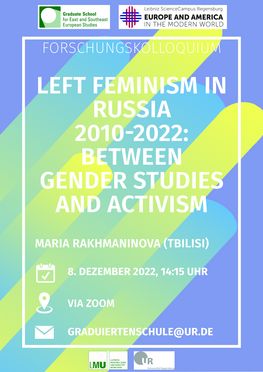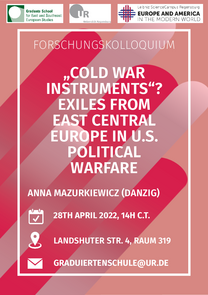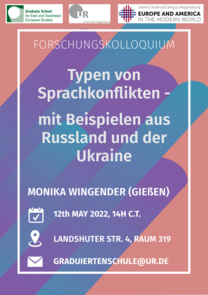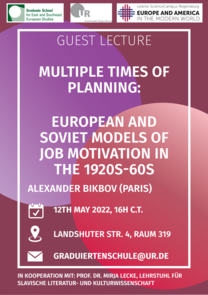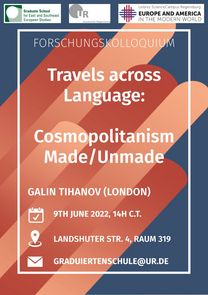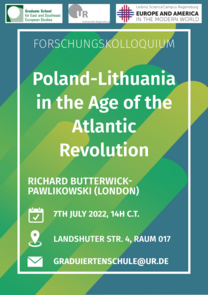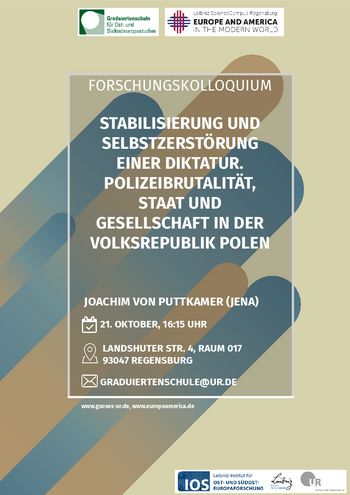 21 October 2021 | 16:15
Stabilisierung und Selbstzerstörung einer Diktatur. Polizeibrutalität, Staat und Gesellschaft in der Volksrepublik Polen
Joachim von Puttkamer (Jena)
Im Vergleich der ostmitteleuropäischen Diktaturen gilt die Volksrepublik Polen als vergleichsweise milde. Dabei kamen Monat für Monat Menschen in polizeilichem Gewahrsam ums Leben, Oppositionelle ebenso wie völlig unpolitische Menschen. Der Vortrag untersucht die Ursachen polizeilicher Brutalität ebenso wie die Versuche, sie einzuschränken, und fragt nach deren Rolle für den Erhalt wie den Untergang des staatssozialistischen Regimes.
Joachim von Puttkamer ist Lehrstuhlinhaber und Co-Direktor des Imre Kertész Kollegs in Jena. Seine Forschungsschwerpunkte umfassen Staatsbildung und Staatlichkeit im östlichen Europa, Nationalismus in Ostmittel- und Südosteuropa, Schul- und Bildungsgeschichte, osteuropäische Erinnerungskulturen und historischer Vergleich.
16 December 2021 | 14:15
Writing the Translocal History of an Arab City: Methodological and Conceptual Considerations
Ulrike Freitag (Berlin)
This presentation connects the central idea of my recently published History of Jeddah (CUP 2020) to wider conceptual and methodological concerns at Leibniz-Zentrum Moderner Orient. The institute's work has been characterised by a strong interest in translocality as a research perspective. More recently, the institute is also focussing more systematically on emic concepts, investigating how these might connect with, inform and possibly change the conceptual terminology with which we investigate non-Western pasts and presents. More concretely, what happens to the Western notion of 'cosmopolitanism' when transplanted into a self-consciously Islamic port city?
Ulrike Freitag is Director of the Leibniz-Zentrum Moderner Orient (ZMO) in Berlin, in conjunction with a full special professorship (S-Professur) at the Institute of Islamic Studies at Freie Universität Berlin.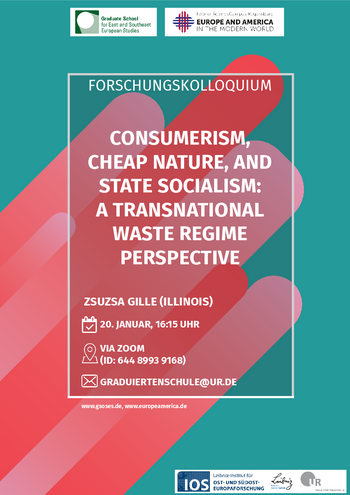 20 January 2022 | 16:15
Consumerism, Cheap Nature, and State Socialism: A Transnational Waste Regime Perspective
Zsuzsa Gille (Urbana/Illinois)
The goal of this lecture is to reevaluate state socialism's environmental record from a transnational rather than a comparative perspective. I will argue that state socialist modernity had its own view of nature and materials, as well as a largely misunderstood ethical stance to consumption that is ignored in today's studies of Capitalocene examining the interrelations of capitalism and climate crisis. The presentation will provide an overview of the environmental advantages and disadvantages of central planning with an eye to demonstrating how Cold-War-era trans-bloc relations and a unique socialist economic logic mutually constituted each other. Instead of returning to the rightfully criticized Anthropocene term, I will argue for a more central role for waste and materiality in our understanding of the current dilemmas around global environmental problems.
Zsuzsa Gille (Urbana/Illinois) is Professor of Sociology at the University of Illinois at Urbana-Champaign. She has published on issues of qualitative methodology as it relates to globalization and new concepts of space, on environmental politics and on the sociology of food. Her research interests are environmental sociology, Eastern Europe, European Union, global and transnational sociology, sociology of consumption, food, knowledge, materiality, waste, contemporary social theory and ethnography.