The Research Colloquium is organized jointly by the ScienceCampus and Graduate School for East and Southeast European Studies.
23 July 2020, 16:15, via Zoom
On the Shoulder of Giants: The Figure of the "Transatlantic Emigrant" in Historiography
Heléna Tóth, University of Bamberg
If you would like to attend the lectures through Zoom, please write to info@europeamerica.de to receive the link.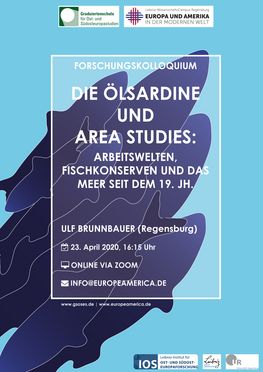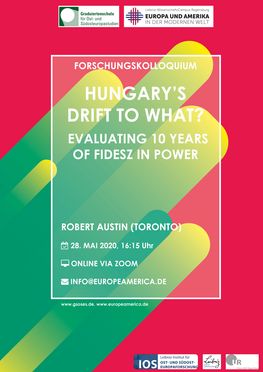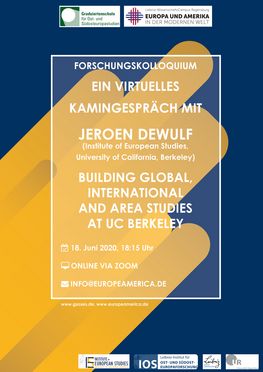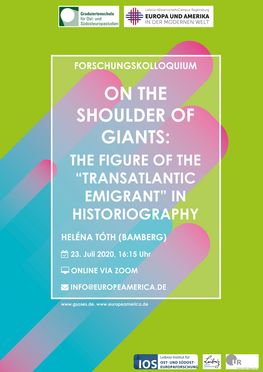 23 April 2020, 16:15, via Zoom
The lecture is available to view online on the Graduate School YouTube channel​​​​​​​.
Die Ölsardine und Area Studies: Arbeitswelten, Fischkonserven und das Meer seit dem 19. Jh., Ulf Brunnbauer
In dem Vortrag wird sich alles um die Sardinendose drehen, ein unbesungener Held des Industriezeitalters. Ausgehend von der Entstehung der Fischkonservenindustrie an der Adria im späten 19. Jh. (als Beginn der industriellen Transformation der damals noch österreichischen Küstengebiete), mit Sprüngen nach Kalifornien und John Steinbeck ("Cannery Row", 1945) und zurück nach Istrien, will ich anhand des Allerweltprodukts der Sardinendose Arbeits-, Wirtschafts- und Umweltgeschichte mit den Area Studies zusammenbringen. Denn in der Fischkonserve stecken reichhaltige Geschichten, die uns die Folgen von technologischem Wandel und Globalisierung auf lokale Gemeinschaften besser vestehen lassen. Zumal: Wer wollte nicht schon immer wissen, worin das Geheimnis des Superfoods aus der Adria besteht?
Canned Sardines and Area Studies: The World of Work, Cans of Fish and the Sea since the Nineteenth-Century
Canned sardines are the focus of this lecture. They are the unsung heroes of the industrial age. Starting with the emergence of the fish processing industry on the Adriatic Coast in the late-nineteenth century, which marked the beginning of the industrial transformation of the then-Austrian coastal region, the lecture also leaps over to California and John Steinbeck's Cannery Row (1945), before returning to Istria. Exploring this everyday product, I will use canned sardines to shed light on the worlds of work, the economy and environmental history, putting them in the context of area studies. Canned fish contain fascinating histories that allow us to better understand the consequences of technological change and globalization on the local levels. After all, who would not like to know more about the secret ingredients that make up the superfood of the Adriatic?
Ulf Brunnbauer, Director of IOS and Speaker of the Leibniz ScienceCampus, Europe and America in the Modern World, gave the opening lecture of the new joint Research Colloquium co-organized with the Graduate School for East and Southeast European Studies.
Summary
This was the first lecture in the joint Graduate School and Science Campus Research Colloquium. It was also the first test of large-scale use of video conferencing technology for our institutions. It worked smoothly and we were pleased that over forty people attended the lecture in virtual form. This included colleagues from universities and institutions in Spain and Croatia, as well as from Leipzig, Berlin and Munich, who might otherwise not have attended in person. The enforced shift to online communication thus has some benefits in terms of opening up our work in Regensburg to national and international audiences.
In his lecture, Ulf Brunnbauer outlined the significance of the history of tinned sardines and the related processing infrastructure and migrations for area studies. This case study can reveal the frictions and ambiguities of globalization through a focus on place-specific thick description. This approach opens up comparative horizons, enabling a global perspective on the divergent experiences of globalization without necessarily finding entanglements. The Croatian and American, both US and South American, sardine industries have experienced similar processes of encouraging migrant labour, outsourcing of production and being affected by environmental factors. But local and regional specificities have seen the industries develop differently. Whereas the North American industry has largely moved to Latin America, leaving traces only in industrial heritage as a tourist attraction, the Croatian industry is thriving but has moved inland, to draw on Serbian labour and also to relieve pressure from the tourist sector that has its eyes on the prime coastal real estate.
Ultimately, then, everyday consumer items, like tinned fish, can reveal some big questions addressed in area studies – and other comparative fields – related to globalization, such as labour migration, gender relations and job security, environmental history and sustainability, industrialization and post-industrialization, and the nature of global supply chains.
28 May 2020, 16:15, via Zoom
The lecture is available to view online on the Graduate School YouTube channel.
Hungary's Drift to What? Evaluating 10 Years of Fidesz in Power
Robert Austin, Munk School of Global Affairs and Public Policy, University of Toronto
In 2010, Viktor Orbán began his second mandate as Hungarian Prime Minister. For Orbán, 2010 was the real 1989 moment for Hungary. Since the "Revolution at the Polls" Orbán's Fidesz Party has transformed Hungary politically and economically by winning super majorities in the parliamentary elections in 2014 and 2018. This new political system, whatever you want to call it, has been extremely controversial and often put Hungary at odds with the European Union (EU). Nevertheless, Orbán has persisted in his efforts to not only remake Hungary but also offer a new sovereigntist and nationalist agenda for other EU member states. This seminar evaluates the major changes under Hungary's system of "national cooperation" and the prospects for democracy overall. In short, is Hungarian democracy dead and does it even matter for Europe's future?
Wohin bewegt sich Ungarn? Eine Einschätzung der 10 Jahre mit Fidesz an der Macht
2010 begann Viktor Orbáns zweites Mandat als ungarischer Ministerpräsident. Für Orbán war 2010 Ungarns wahrer "1989-Moment". Seit der "Revolution an den Wahlurnen" hat Orbáns Fidesz-Partei Ungarn politisch und wirtschaftlich verändert, nachdem sie bei den Parlamentswahlen 2014 und 2018 mit Zweidrittelmehrheiten gewann. Dieses neue politische System, wie auch immer man es bezeichnen möchte, ist seitdem sehr umstritten und hat häufig zu Konflikten zwischen Ungarn und der EU geführt. Dennoch hält Orbán fest an seinem Bestreben, nicht nur Ungarn zu erneuern, sondern auch anderen EU-Mitgliedsstaaten eine neue souveränistische und nationalistische Agenda anzubieten. Dieses Seminar gibt eine Einschätzung zu den wesentlichen Veränderungen unter Ungarns System der "nationalen Kooperation" und den generellen Aussichten der Demokratie. Kurz gesagt: ist die ungarische Demokratie tot und spielt das überhaupt eine Rolle für die Zukunft Europas?
Robert C Austin is a specialist on East Central and Southeastern European history and contemporary society. He is Associate Director of The Centre for European, Russian, and Eurasian Studies (CERES) in Toronto. He once served as Tirana-based correspondent for Radio Free Europe/Radio Liberty, has collaborated with numerous other media organizations and written for leading newspapers and scholarly journals. He has lectured widely in Europe and North America. His most recent book, "Making and Remaking the Balkans: Nations and States since 1878", was published with the University of Toronto Press in May 2019. He is now writing a popular history of Central Europe since 1848.
Summary
Robert Austin gave a highly engaging talk on the past decade of government by the populist Fidesz party in Hungary. He set the party's approach, and the concerns of the EU, within the historical context of previous less-than-democratic regimes in Hungary. Much of Fidesz's attempts to secure legitimacy have sought to present the end of communism in 1989 and the subsequent transition as a time of unfulfilled promises. Robert Austin drew particular attention to the need to consider the Fidesz's rise to power in the context of the harmful consequences of the financial crisis of 2008 and how the party's economic competence indeed brought it some legitimacy. Ultimately, though, the anti-democratic approach to media law, migration and the judiciary, as well as Hungary's revisionist memory politics, are all worrying developments. He emphasized that it is worth remembering that Hungary has been in a state of emergency for several years now, with Fidesz seeking to present the large number of refugees who passed through Hungary in 2016 as a particular threat that could re-emerge. There have though been few imitators of the Hungarian model and no other country has gone as far as Orban's government. Thus, he argued, despite Hungary's own "hubris" and belief in the country's significance, it is not notable enough to undermine the EU project as a whole. Still, in light of the uncertainty brought about by the COVID-19 pandemic, all bets are off.
18 June 2020, 18:15, via Zoom
A Virtual Fireside Chat - Jeroen Dewulf in Conversation with Ulf Brunnbauer: Building Global, International and Area Studies at the University of California, Berkeley
Jeroen Dewulf, Director of the Institute of European Studies at UC Berkeley, will discuss how a world-leading university is developing its research and teaching expertise in the interconnected fields of global, international and area studies. Talking to Ulf Brunnbauer, Director of the Leibniz Institute for East and Southeast European Studies (IOS) in Regensburg, Jeroen Dewulf will offer insight into what could be considered best practices in building expertise in these multidisciplinary fields.
Ein virtuelles Kamingespräch mit Jeroen Dewulf: Building Global, International and Area Studies at UC Berkeley
Jeroen Dewulf, Direktor des Institute of European Studies der UC Berkeley, wird darüber sprechen, wie eine der führenden Universitäten weltweit ihre Expertise in den miteinander verbundenen Bereichen der Global, International und Area Studies sowohl in der Forschung als auch in der Lehre weiterentwickelt. Im Gespräch mit Ulf Brunnbauer, Direktor des Leibniz-Instituts für Ost- und Südosteuropaforschung (IOS) in Regensburg, wird Jeroen Dewulf Einblick in die "Best Practices" beim Aufbau von Expertise in diesen multidisziplinären Fachgebieten geben.
Jeroen Dewulf is Associate Professor in the Department of German, Queen Beatrix Professor in Dutch Studies, and the current Director of the Institute of European Studies. He graduated with a major in Germanic Philology and a minor in Portuguese Studies at the University of Ghent, holds an MA from the University of Porto and a PhD in German Literature from the University of Bern. Professor Dewulf's research interests are as diverse as Dutch and Portuguese (post)colonial literature and history, transatlantic slave trade, Low Countries studies, Swiss literature and culture, and European politics in general.
Summary
In a wide-ranging and thoroughly engaging discussion, Jeroen Dewulf outlined the ways in which global, international and area studies are being developed at the University of California, Berkeley. Despite significant differences in funding models and the range of world regions covered, there are many parallels with efforts to develop area studies in Regensburg.
In a discussion chaired by Ulf Brunnbauer, he considered the pragmatic, structural, methodological and conceptual aspects involved in building collaboration between institutions and disciplines. Jeroen Dewulf presented some of the ways in which UC Berkeley and the collaborating institutions are seeking to address the challenges of internationalization, bringing teaching and research closer together, and making output in area studies visible to the public and policy-relevant.
These are all questions being tackled in Regensburg, hence the debate was particularly lively involving senior scholars, postdocs and doctoral researchers. The discussion focused on whether area studies requires strict definition and frameworks, or whether it is a more pragmatic perspective. The issue of disciplinary intersections was also elaborated in terms of balancing depth and theory- and model-building. The question of how to bring together area studies institutions with long-standing traditions and encouraging them to engage in comparative, transregional work was also part of the debate.
Jeroen Dewulf offered valuable insight into best practices and ongoing experiments in Berkeley, which will certainly shape developments in Regensburg, likewise through the partnership between institutions here, including the ScienceCampus, and those in California.