There are six doctoral researchers at the Leibniz ScienceCampus who joined in March 2020. You can find their profiles by following this link. The upcoming and past events in the programme are outlined below.
Outline
In collaboration with the programme developed by Graduate School for East and Southeast European Studies (GSOSES UR), the ScienceCampus doctoral scholars can acquire research skills training, academic writing advice, and career development advice. The doctoral researchers are also involved in the Graduate School Study Groups, including one on Transatlantic Entanglements and Comparisons. The doctoral students also have access to other graduate training opportunities offered by IOS and partners at UR.
The first year features tailored workshops on Getting Started with a PhD, addressing time and project management, developing a literature review and sharing experiences of being a doctoral researcher.
The ScienceCampus offers opportunities to develop knowledge of key theories, methods and debates in area studies, likewise in collaboration with other Leibniz Institutes. There are opportunities to exchange ideas with visiting fellows and guest speakers in keynote events including the Research Colloquium, Lecture Series and other talks, including those held at their departments at UR.
Requirements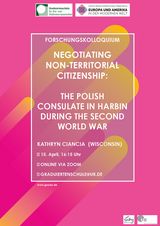 Every semester, the doctoral scholars will update their supervisors through self-reflexive Progress Reports, in addition to regular meetings with them.
Around 18 months into the programme, there will be a chapter workshop where the scholars will present at least one chapter of their theses where they will demonstrate that the methods, concepts and sources they intend to work with are feasible and will lead to a successful doctoral dissertation.
The researchers should attend the Research Colloquium regularly, participate actively in the Study Groups at the Graduate School, and collaborate with the ScienceCampus Research Modules to develop its activities in research, outreach and networking.
Once conditions allow, doctoral researchers will also be expected to participate in summer schools and research retreats.
What we offer
From the Leibniz ScienceCampus, the doctoral researchers can expect not only excellent supervision, but also support from mentors collaborating with the Research Modules or based in the partner institutions. They can also apply for financial support for research trips and active participation in conferences. The research modules have access to seed money for developing further collaborative projects, which can be led by doctoral researchers. The network of outstanding national and international partner institutions and scholars associated with the Regensburg ScienceCampus will ensure that they become embedded in the research community of their respective fields.
To facilitate communication among all those involved in the ScienceCampus - from professors and postdocs, through support staff to the doctoral researchers - the LSC Forum on the GRIPS e-learning platform at UR allows for open discussion, requests for advice and literature tips, and facilitates virtual mentoring, as well as sharing ideas for events and collaborations. The Forum is open to all members and associates of the ScienceCampus.
Upcoming Events in the Doctoral Programme
| Date & Time | Event | Status / Notes | Venue / Zoom Link |
| --- | --- | --- | --- |
| July 20-21 2022, 10:00-16:00 | Doctoral Workshop with Anne Brüske: Cultures and Politics of Translation in Postcolonial and Postsocialist Contexts | Registration by April 22 via email to graduiertenschule@ur.de | Room 214, Sammelgebäude, UR Campus |
The details of the Research Colloquium can be found here.
The dates of the monthly Jour Fixe and of the Study Group meetings will be communicated by the Graduate School.
Doctoral Program - Past Events