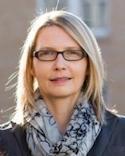 Arizona State University
, USA
Visiting Professor
Duration of stay: June 2023 and May 2022 – July 2022
Contact: Claudia.Sadowski-Smith@asu.edu
Claudia Sadowski-Smith is Professor of English and American Studies at Arizona State University. She is the author of The New Immigrant Whiteness: Neoliberalism, Race, and Post-Soviet Migration to the United States (New York University Press, 2018) and Border Fictions: Globalization, Empire, and Writing at the Boundaries of the United States (University of Virginia Press, 2008). She is the editor of Globalization on the Line: Culture, Capital, and Citizenship at U.S. Borders (Palgrave, 2002) and of three special journal issues--on the cultures of global postsocialisms, comparative border studies, and postsocialist literatures in the United States. In addition, Sadowski-Smith has published on climate migration, comparative histories of US migration, transnational adoption, and transnational reality TV.
She gave a talk on 2 June 2022 on Whiteness and Migration Studies and taught a seminar on Comparative Approaches to US and Western European Migration. She also produced a contribution for the ScienceCampus online lecture series where she explored the intersections of migration, climate change and the capitalocene.
During the second part of her stay in Regensburg, there will be a meet and greet session with her on 28 June 2023.